Tag Archives: macbook
Posted on 13. Jan, 2011 by Brandon.
From the factory, it's likely your Mac is running potentially slower than it could be by booting in 32-bit kernel.
Possibly Apple does this for maximum compatibility. However, with the potential to run some applications up to 30% faster, it's worth looking into. As of this posting, the only Mac shipping with the 64-bit kernel as default is the mid-2010 Mac Pro
.
You can startup in 64-bit kernel on an as-needed basis (without setting it to always startup in that mode), by simply holding "6″ and "4″ keys together before the Mac chimes. If you'd like to change it to always startup in 64-bit kernel, Apple has posted instructions here (it's dead easy).
If you want to double check if your Mac is currently running 64-bit kernel. Simply click on the apple icon in the top left of your screen, and click on "About This Mac".
You'll then see:
Click, "More Info" and scroll down until you see, "Software". Once you click that, you'll likely see that the section with "64-bit Kernel and Extensions" lists, "No". Once you set it to startup in 64, you can double check, and should then see something similar to mine: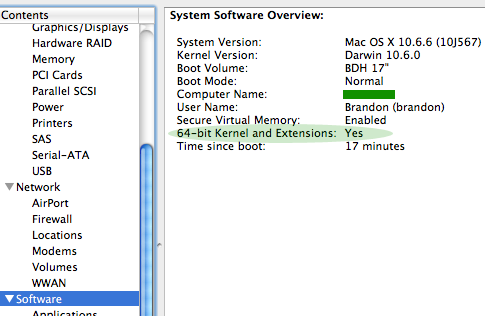 The following excerpt is from Mac Performance Guide:
"Should you boot into the 64-bit kernel?

Tests of photographic applications show that the gains of booting with the 64-bit kernel can be substantial, keeping in mind that a 30% gain via hardware often costs several thousand dollars more. Why not get a good chunk of that for about $25?

Your 64-bit programs (if any) will run fine on a 32-bit kernel, gaining the benefits of 64-bit-ness. But they won't see full performance that way.

The reason not to boot into 64-bit mode is compatibility with software drivers of various kinds. Apple really can't be faulted here, but you can make an intelligent choice for yourself. You'll want to verify if your software has any issues in 64-bit mode.; one way is simply to try it."
I've set mine to 64-bit kernel and have noticed nothing incompatible yet. Give it a try!
Posted on 30. Jun, 2009 by Brandon.
The entire purpose of this post is to help share some of my thoughts and research with those of you wondering how to choose which Mac best suits your needs. Warning – it is long winded and demonstrates my own opinions, so it is biased in that fact. My demographics in a nutshell: 31, male, American, photographer, designer, educator, ADE, expat in Asia.
As you may know, I'm quite the Apple fan. Part of my job involves helping others learn how to best utilize Apple's solutions within the educational world (I'm also an Apple Distinguished Educator).
Having said that, I'm currently in the market for a new Mac; and it's gotta be a laptop this time around. My current machine is a 15″ MacBook Pro 2.16Ghz Core 2 Duo from Spring 2007. I installed 3GB of RAM, and the poor 160GB hard drive is full despite heavy culling. It's been a real workhorse, and the most trouble-free Mac I've ever owned.
I'm currently bumping up against three main constraints: the battery life, the hard drive space, and the speed. I could easily shove a 500GB hard drive in there, perhaps pick up another battery, and it'd hum along nicely for quite some time. Unfortunately, the speed issue won't remedy itself with any upgrade I can provide. It's really only a problem with doing heavy photo work or video editing. Furthermore, the speed was never an issue until I started using my Canon 5D Mk II. With the massive RAW files and full HD video, it's pushing the processor and RAM to the max.
The other major factor for upgrading is the fact that for the past couple of years I've had the pleasure of using an iMac with an external screen at work; with my shift to Manila, this will no longer be the case. My job will be different; much more mobile, and on the go vs desk work.
Fortunately, just a few weeks ago, Apple released updated versions of it's portable Macs. So how does one go about choosing which MacBook Pro to buy?
Let's weigh the options in Apple's portable lineup:
MacBook Air: a glorious demonstration of the marriage of industrial design and engineering.
13″ MacBook Pro: Apple's new answer to those who want power and portability, especially with the 4GB of RAM standard and Firewire 800. Fans of the 12″ PowerBook rejoice.
15″ MacBook Pro: In some ways, the perfect solution offering better resolution than the 13″ but with less weight than 17″. Also importantly offers the option for discrete GPU – not an option on the 13″ (I feel Apple is shafting pros who need a better GPU on the 13″ – especially with the 'pro' designation – perhaps they'll include it in the next update – they have a habit of give/take/give/take.)
17″ MacBook Pro: The big guy, offering awesome resolution in the thinnest and lightest package on the planet. Also the only one that still has the Express-Card slot (Apple upset many pros by removing them from the 15″). Additionally, it's the only model offering the 'antiglare' screen option for $50 more. (I find it funny that Apple calls it 'antiglare' – openly admitting the others have glare? – how about stick with good 'ole 'matte' as the name?)
Most people will go for the 13″ or 15″ MacBook Pro. I'm leaning heavily towards the 17″. Why? I'll break down some of the reasoning against the others – for my own needs – however, many people will have different requirements:
______
Pros:
It'd be ideal for portability at only 3lbs.
It fits the needs of perhaps 70% of my workday requirements.
Cons:
The RAM is not upgradeable at this time (soldered) and is maxed out at 2GB – so I'd be taking a step backwards in power – this alone is a deal-breaker for my needs.
Unfortunately the processor wouldn't hold up to my heavy Lightroom, Photoshop, and HD editing with the 5D2.
Summary: I have a small netbook already. I also have another much much more portable netbook with me all the time; one that holds tremendous capabilities as a communication device, allows me to connect anytime, anywhere, and fits in my pocket – the iPhone. Overall, the Air really appeals to my design senses, and I think it's perfect for many people, but simply isn't an option for me at this time.
______
Pros:
Decent portability at 4.5lbs.
Great battery life with the newest version.
Includes Firewire 800 – I have many FW 800 drives and am happy to see this as an inclusion.
Cons:
I personally find the 13″ 1280 x 800px resolution to be cramped for many apps that utilize palettes. (many will chime in that you simply could use an external monitor – more about that in a moment)
Lack of a discrete GPU.
Summary: I currently own (well Novita owns), the first generation 13″ MacBook. I find the screen size and resolution quite limiting for my uses beyond the basics. If you're simply checking email and surfing the web, it'd be more than adequate, and likely is the most popular model of the MacBook Pro family. With the use of an external monitor, you'd have quite the mobile powerhouse. (as long as you're not intogaming) However, for my own use, even with the option to plug into an external, I prefer a higher resolution screen when on the go.
______
Pros:
I'm used to this size and weight. At 5.5lbs, it doesn't bother me.
Can be configured to match the performance of the 17″ MBP.
Resolution is more forgiving at 1440 x 900px.
Cons:
Resolution: I mention this in the cons because I feel Apple should move the 15″ to 1680 x 1050px. That would be a good middle-ground between 13″ and 17″. It seems I'm not the only one wishing such a change.
Apple still doesn't include the option to use 'antiglare' with the 15″ despite previously offering such an option. (give/take once again)
My current MBP includes the Express-Card port – I realize they probably removed it to make room for the new sealed battery, but for many professional photographers and videographers, this may be a huge negative.
Summary: I have found the 15″ form factor to strike an ideal balance between power, screen size, and portability. I really do wish the resolution was higher for design work and photography, but overall, this is quite a tempting and powerful laptop.
______
Pros:
The thinnest and lightest 17″ laptop in the world (according to Apple).
Resolution is a beautiful 1920 x 1200px.
Only model to include anti-glare (matte) option.
Still includes the Express-Card port.
Cons:
Despite being the lightest 17″, it's still not nearly as portable as the Air or 13″.
Footprint takes up a lot of space – may feel imposing to others nearby, and difficult to use on a flight (not a problem for me as I usually just watch movies on the iPhone or Touch or read a book)
The high resolution means small icons and occasionally small text – a problem for some.
Summary: This badboy may be the one for me. I'll digress more in a moment. The PPI – pixels per inch – is higher than any other computer screen in Apple's lineup (iPhone/Touch not included – but even higher at 160ppi) This takes some adjustment surely, as things like icons and text within applications may not be adjustable (Aperture?). However, this can also be a benefit – the higher the pixel density, the smoother text and lines will appear to the eye – making strain less of a problem.
This resolution matches Apple's 23″ and 24″ displays – enticing for applications like Lightroom and Photoshop where pallettes can take up quite a lot of space, and matching resolution is perhaps helpful when working with an external monitor.
As far as the larger size is concerned, I'm over 200lbs and regularly hit the gym. If I can't handle 6.6lbs, perhaps I better reconsider my workout. Also, think about it this way – with the 5-8 hour battery life, it's feasible you could leave the charging cable at home at times – easily making up the difference in weight from 15″ to 17″ (ok, now I'm reaching). However, understandably, this will prove to be much more of a beast to carry around than many are willing to put up with. It's definitely not for everyone.
______
There are some additional concerns when contemplating dropping such serious coin on a laptop. One of my biggest questions is when we'll see quadcore processors hit these MBPs. From what I've come across in heavy research is that most likely the first half of 2010 will see the introduction of the first quadcores, with some speculating Q4 of 2009 following Snow Leopard's release. If I had to gamble on timeframes, I'd say the earliest would be Q1 of 2010, not this year.
This leads into my next contemplation: for serious photo editing, most people would not recommend doing any color critical work on a laptop screen as they're generally inferior to external monitors – I have yet to hear how much better the new screens are with the new, "60 percent greater color gamut than previous generations". So, although I'd still be hesitiant to do serious editing on the MacBook Pro, it'd be nice to have the option to do editing on the go – I travel quite often – usually for a total of three months per year. Those three months would be much more enjoyable if I didn't have to sacrifice screen resolution. The glossy vs matte screen debate is alive and well, but if I'm not planning to do color critical work, it may be less of a factor. I'm still undecided on that matter, and no stores around here have them in stock to compare.
Furthermore, as powerful as these Macbook Pros are, they're still no match for the Mac Pro or even the iMac. So it seems there are two main options if you crave a larger screen for editing:
Purchase an external monitor for use with a MBP
Consider a desktop for home
Breaking this down, obviously the cheaper route is the use of an external monitor. There are some great options for 22-27″ monitors, as well as Apple's own 24″ LED display. However, not everyone is a fan of connecting cables, setting things up, and using their laptop as a desktop, just as others find it terribly inefficient to balance more than one machine with syncing issues and maintaining updated files. Personally, I'm used to using two or more computers on a daily basis, but can't say I've not desired the simplicity that comes with one machine.
The iMac is a beautiful machine – I've been using them since 2005 in various forms. I think the new 24″ are stunning. My hesitation with the iMacs are that, A) It's a pain to continually sync two or more computers, and B) They'll most likely adapt quadcore processors soon (perhaps sooner than the MBP). I believe it's best to hold off on purchasing the iMac until they do so, as the benefits will be quite impressive, and they're due for a refresh within the next 7 months or so.
The Mac Pro is another story. It's a glorious demonstration of power, but at a significantly higher initial purchase point. However, when you really evaluate things, it's not such a bad idea.
In fact, Lloyd Chambers states, "Dead-end Macs are anything except a Mac Pro; all other models have extremely limited options for enhancing performance. A dead-end Mac is the most expensive one, because you'll have to buy another Mac to get the performance, storage, or expansion you need."
In reality, after you swallow the initial purchase price and throw some RAM and hard drives in there, you have a Mac that will churn out work for many years of service. The expandability helps to offset the processor's aging, and will help maintain decent resale. Surely if time is money, and you need this kind of power and flexibility, the Mac Pro is probably the best investment (if you can call a computer that).
The iMacs are becoming increasingly difficult to upgrade, can only support one internal HDD, are limited to 8GB of RAM, video cards cannot be upgraded, and if the screen goes bad, the computer is unuseable.
That being said, I still think the iMacs are perfect for the vast majority of users who don't require portability. You can easily get a few years out of the current model without needing to worry about bumping up against the constraints – unless you're a very heavy user or are running specific apps that require such power. Knowing all of the limitations, I'd still seriously consider an iMac once again.
To wrap up this massive missive that's become long winded, the current Mac lineup is looking quite promising, with the laptops sporting a truly marvelous design and the power to please most users.
For some, including myself, the 17″ Macbook Pro may be the perfect choice if the weight and size are not concerns. I'll definitely need some option for working at home on a larger screen, but that's something I can hold off on deciding for at least a couple of months. I'll be carefully watching the iMac updates, and depending on how things go with work and photography, may even consider a Mac Pro at some point – but most likely not this year. I feel at this point and time, even the 17″ MacBook Pro will be sufficiently powerful while still being portable.
I hope, if nothing else, you've gathered a glimpse of how choosing the right Mac is a choice that's best done only after serious consideration. Strolling into the Apple Store may gain you buyer's remorse and provide you with possible overkill, or worse, an underpowered Mac for your particular useage. You have to carefully evaluate your needs, and match that with the amount you're willing to spend. Lastly, don't fear refurbished or second hand items. On that note, I personally always purchase Apple Care for portables.
In closing, there will always be "one more thing" on the horizon. A good rule is to wait as long as you can for a new machine, research carefully, and then use the hell out of it without worrying about the next update.
Posted on 16. Mar, 2007 by Brandon.
A crash course in modern Mac notebook screens:
With the advent of the Macbook, Apple switched from a matte screen to glossy for the Macbook line. Many users welcome this change, as many people find that the colors are more saturated (blacks more black, etc), contrast may be higher (not always a good thing), and for things like movies and games, the screen may be more vibrant. The downside is that the glossy screens can double as a mirror in the wrong lighting (meaning anything other than indoors or with strong back lighting). Additionally, many designers, photographers, and other visual artists feel the glossy screens present unrealistic colors, overly contrasted images, and photographs cannot be accurately matched to the final print.
Options: glossy or matte?
Apple surely has their reasons for switching: perhaps it's cheaper to produce, maybe typical consumers (vs professionals) prefer them in market testing. (many pc notebooks have switched to glossy).
The good news is that Macbook Pro users have the option to choose one or the other. If you're a geek like me, you'll do your homework before choosing something so important. Think about it; you drop 2 grand or more on a laptop with all the bells and whistles, but the screen is what you interact with for the rest of the life of the notebook. However, even doing the typical exhausting research doesn't yield a clear answer. Visual artists tend to present passionate arguments for both sides.
As I currently use a beautiful 20″ iMac to edit my photographs, I'm more accustomed to the matte screen for photography. However, I'm typing this on a Macbook with the glossy screen right now in an outdoor cafe. I have a bright pane of windows surrounding me on all sides, and have no problems at all with the Macbook for general use.
Confusing conundrum: Macbook screen brighter than the Pro?
I was in the Apple store last night and did some basic comparisons. In all fairness, I was comparing the Macbook to the Macbook Pro instead of two Macbook Pros side by side. Adjusting the brightness to its fullest and bringing up the same desktop background, I noticed something peculiar. The Macbook was displaying details in shadows and darker areas that the Macbook Pro wasn't even showing. I did this many times with multiple backgrounds. The Pro was a matte screen and was the core duo model not the core2 duo. Perhaps the core2 duo model's screen has been updated to a higher output? I know the glossy screen tends to seem brighter, but this was a case where there was actually a very big difference in details showing up – and this concerns me as a photographer. Does anyone have experience with a Macbook Pro matte or glossy? Do you regret your decision one way or another? Have you had any problems with the reports of "graininess" in your screen?
Reality: How critical is all this?
Now, in all reality, a photographer / designer / visual artist probably shouldn't be editing photos for production work on a laptop screen. There's no laptop screen on the market that can compare with a pro level screen at this time. However, both Macs can easily output to another monitor, making the glossy/matte decision much less critical in many cases. On the flip side, not everyone can afford to get into a nice external monitor and most people will find no qualms editing photos on either of the screens.
To make matters more confusing, rumors have been circulating that Apple will be introducing LED lit screens into their notebooks sometime in the near future.
From AppleInsider:
While pricer than CCFLs, LED technology is more efficient at distributing lighting evenly across the entire display surface and offers an increase in color saturation. According to a white paper from Cree, a backlight solutions provider expected to provide its LED technology to Apple, LED-based backlights also consume less power, run cooler, and last longer than CCFLs.

For end users, the new technology translates into improved notebook battery life and displays that will maintain their initial levels of brightness longer into their respective life-cycles. Come this spring, LED-lit displays will also deliver a more vivid canvas for the various software user interface enhancements and animation techniques that will be included with Mac OS X Leopard.
To wrap things up, the computer's processor may be the brains of a notebook, but the screen is certainly the beauty. It's not something trivial to those who care about the quality their work presents. For road warriors, traveling artists and photographers, the notebook screen may be their only screen; often it needs to meet a number of demands under ever-changing environments. When deciding on a notebook, it's not a time to make quick decisions; nor is it recommended to order something like a Macbook Pro in matte or glossy without actually seeing and comparing them first. (by the way, if you order a MBP it generally will be matte by default; in Indonesia you have to pay more for the glossy and they're never on display). Whether one is better than the other ultimately boils down to personal preference and what your needs may be. Make the decision only after careful consideration; buyer's remorse after spending two or three grand is not a pleasant thing.