Archive for 'Luzon'
Posted on 21. Dec, 2010 by Brandon.
Wishing you all a happy holiday and hope 2010 brought some good things into your life.
We've decided to stay in the Philippines for the holiday. I have about 3 1/2 weeks off from work, but will need to take care of other work in this time. It's not that bad, especially considering where we're living now, but it's still tough knowing the vast majority of my coworkers are scattered across the globe or relaxing on white sandy beaches while I'm surrounded by 10 million people.
I was offline for a while, as I took a trip to Central Luzon to Banaue. I was up there last year around this time as well. You can check out my previous photos and posts from the trip, here. Overall it was a great experience once again, but unfortunately it rained pretty much the entire time.
I'll be striving to finally get through some of my photos from my trip to Japan in Oct/Nov. It's pretty overwhelming seeing 80 GB of photos from that trip – almost not sure where to begin. Here's one to kick things off.
We had phenomenal timing visiting this temple. As we arrived, so did a couple hundred students dressed in full. Within 15 min or so they were gone and it started raining.
Posted on 06. May, 2010 by Brandon.
Novita. My one. My only.
Posted on 06. May, 2010 by Brandon.
Novita in a restored mansion from the 1800′s.
Posted on 04. May, 2010 by Brandon.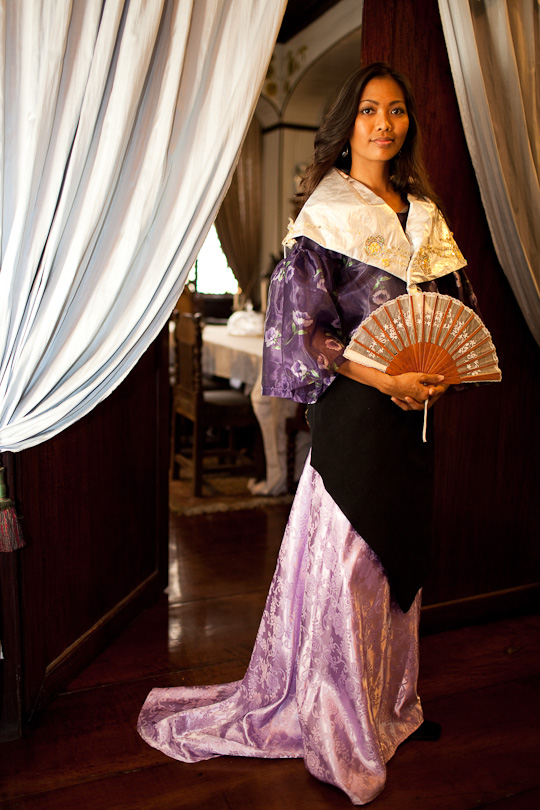 Novita in a restored home in Taal, Batangas, Philippines.
Dressed in costumes from that time period. A wonderful experience.
Posted on 16. Feb, 2010 by Brandon.
It's interesting to see how one culture's normal activities may seem brutal or cruel in contrast to another. Take, for example, this particular afternoon spent in Banaue, Central Luzon, Philippines. We visited a very remote traditional rice-farming village nestled in the serene valley outside of Banaue, and lived, if for only an afternoon, as they do.
For these gentle people, the act of killing a live chicken with your bare hands is just a daily chore – something as natural as bathing or dressing the children. The capturing, killing, burning of feathers, gutting, and cooking were all just natural steps done in a jovial manner surrounded by light-hearted conversation. And yet, for those amongst us whose lives are the very definition of metropolitan, it seemed shocking, violent, and harsh.
Much of so-called modern society is so far removed from such practices, that it stings the senses. It's too raw, visceral, real. Most of us are not vegetarian, and yet, we rarely question where this meat comes from. Surely the treatment of animals in massive American farms is far worse than these free-range chickens that had lived naturally until their time ran out.
Somehow it seems more natural than fast food.
The little girl in this series was helping her father to hold the chicken as he sliced into the neck. At one point she even began stroking the feathers as the blood and life drained from it; an act of affection in a moment of violence.

Posted on 28. Dec, 2009 by Brandon.
The village leader separates rice from the sheath.
Banaue, Philippines
Canon EF 35mm f/1.4L USM
Canon 5D Mk2 | f/10 | 1/400 sec | ISO200
Posted on 18. Dec, 2009 by Brandon.
The woman on the left is 105 years old. The other two I believe said they were in their 90′s.
Banaue, Luzon – Philippines
Posted on 07. Dec, 2009 by Brandon.
"It is said that if the steps are put end to end it would encircle half the globe"
I'm leaving at midnight tonight for a trip to the Banaue Rice Terraces; a 10 hour bus ride heading into the heart of Luzon. I'll be there for four days, hiking around and working with students in the indigenous schools. Really looking forward to the trip, but wish I wasn't sick with a bad "Man Cold". I'm not great at sleeping in moving vehicles, much less a bus, so I've loaded up the Mac with a bunch of documentaries I've been meaning to watch.
I stocked up on a couple of dry sacks in the event of rainy weather (which I've heard is the norm up there). Will bring my camera gear and hope to have a chance to get some shots. I'm always hesitant to bring the gear with wet weather, but the reality is, why spend so much on equipment if you never use it?
Here's an excerpt from an article on Wikipedia regarding Banaue:
"The Banaue Rice Terraces are 2000-year old terraces that were carved into the mountains of Ifugao in the Philippines by ancestors of the indigenous people. The Rice Terraces are commonly referred to by Filipinos as the "Eighth Wonder of the World".[1][2][3] It is commonly thought that the terraces were built with minimal equipment, largely by hand. The terraces are located approximately 1500 meters (5000 ft) above sea level and cover 10,360 square kilometers (about 4000 square miles) of mountainside. They are fed by an ancient irrigation system from the rainforests above the terraces. It is said that if the steps are put end to end it would encircle half the globe."