Archive for 'Boracay'
Posted on 18. Feb, 2010 by Brandon.
30 second exposure on Boracay's beach. Sunset.
Canon 5D Mk II | 17-40mmL
Posted on 10. Feb, 2010 by Brandon.
Boracay beach, Novita carved out this mermaid. Taken after dark with 137 second exposure.
Canon 5D Mark II
Canon EF 17-40mm f/4L USM
@17mm f/8.0 ISO 100
Posted on 12. Jan, 2010 by Brandon.
One of my greatest interests in life is to travel, experience, and learn more about other cultures. There's nothing like soaking up all that a new country has to offer. I feel immensely thankful that my career allows us to travel extensively (always wish it could be more but don't want to be greedy).
2009 was a year of drastic, yet positive changes with our move from Indonesia to Philippines. Change is what defined this year.
2010 should be more stable, but still allow plenty of travel – perhaps even more if we return to the States for 8 weeks this summer (tentatively planning a trip to the American West).
How about you? What were some of your major trips this year? How did 2009 turn out for you? How is your outlook for 2010?
A quick list of our main travels for 2009:
February – Manila, Philippines – 4 days
March – Seminyak, Bali, Indonesia – 9 days
April: Yogyakarta, Java, Indonesia – 4 days
May: Thousand Islands, Indonesia – 5 days
June/July – Ubud / Seminyak, Bali, Indonesia – 3 weeks
July – Manila, Philippines (uh, still here)
September – Hong Kong – 4 days
October – Boracay, Philippines – 9 days
November – Batangas, Philippines – 3 days
December – Banaue, Philippines – 5 days
December – Singapore – 2 weeks
And a visual summary of 2009. (oldest to most recent) Enjoy.
Posted on 09. Nov, 2009 by Brandon.
Boracay, Philippines
Canon EF 35mm f/1.4L USM @f/2.8 | ISO 500 | 1/2 sec
Posted on 04. Nov, 2009 by Brandon.
Imagine…
… strolling through pure white flour, sifting baby powder through your warm toes, or meandering through a path of cocaine* as far as the eye can see. Now, amplify that intensity by adding a dab of blue to the horizon; blue the color of afternoons forever spent on your back massaging shapes from clouds.
At first glance you fight back the urge to lay down and lick and lap at what surely must be powdered sugar from Willy Wonka's Tropical Dreamscape.
Get the picture?
That's Boracay.
The best beach I've ever seen.
Period.
I've journeyed to sundry beaches across the world. Some surrounded by towering peaks of limestone, others by gently sloping mountains sprawling into the sea, some backed by exquisite mansions, others by broken jagged fence posts. But speaking purely of the quality and consistency of sand, in harmony with tranquil liquid sky, I've yet to find a rival to Boracay. The closest memory conjured by this beach is that of White Sands, New Mexico, sans the aquamarine contrast of the South China Sea.
The photographs that follow are only a fleeting glimpse into the serenity that saturates this nirvana.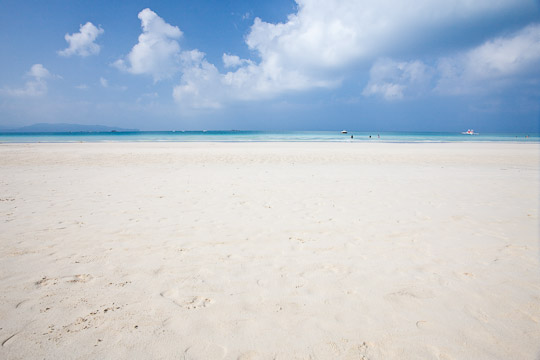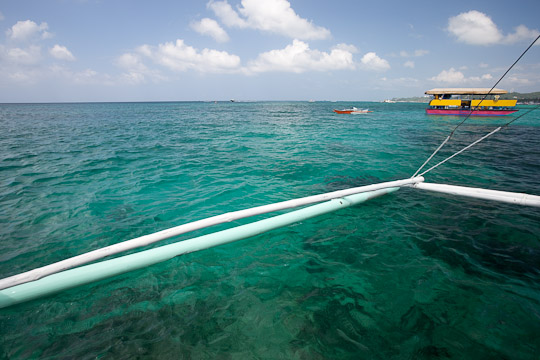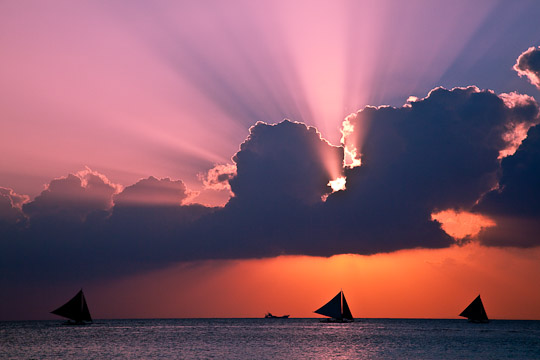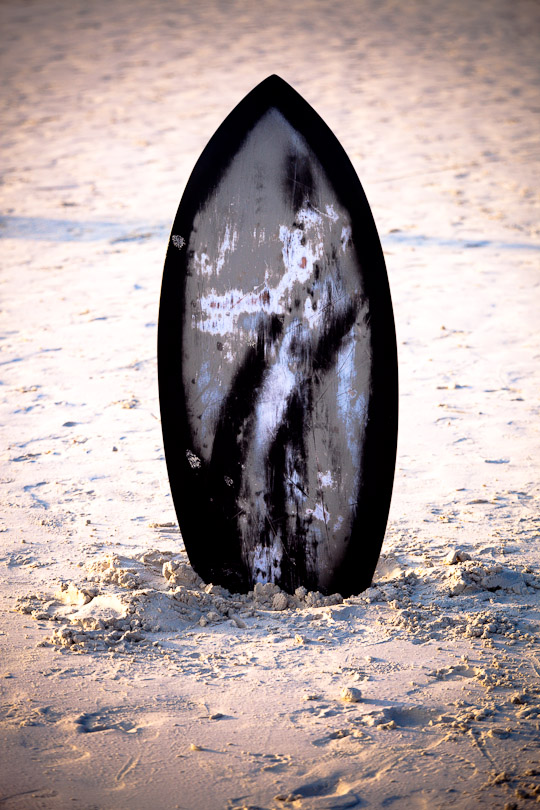 *I've NEVER touched cocaine, so don't even go there.
Posted on 02. Nov, 2009 by Brandon.
Boracay, Philippines
Oct. 2009
Canon 5D Mk II | Canon EF 24-105mm f/4L IS USM | @105mm f/8 ISO 200 1/640 sec
Posted on 30. Oct, 2009 by Brandon.
We're scheduled to fly from Boracay to Manila tomorrow – exactly when Typhoon Mirinae (known locally as Santi) is scheduled to hit Manila directly. Being new to the whole typhoon thing, we're unsure as to how dangerous it actually is to fly through one, but it's not an experience I feel I need to check off my list of things to do.
Philippine Airlines has cancelled over 50 domestic and international flights into and out of Manila beginning tonight. Our flight is just after the listing finishes, meaning our flight is still on. I can't get through to PAL via their phone lines, and am unsure if it's in our best interest to strive to change our ticket (maybe not even a possibility at this late of a juncture), or trust that they know what's best and go forward with our flight.
It's too bad this has put a damper on our otherwise wonderful holiday.
Posted on 26. Oct, 2009 by Brandon.
We're on the majestic island of Boracay, Philippines for a week. I never realized beaches could be so idyllic and composed of pure blazing white powder. Since it's only a 45 min flight from Manila, this may be my new escape.
Taken this morning with my Canon 5D mkII and a 17-40mm L.