After a battle with my travel agent, and losing, I will no longer be going to Lombok for Idul Fitri. Gone are the thoughts of basking in the equatorial sun and damaging my skin beyond repair. For those of you unfamiliar with Idul Fitri (don't you love it when a white dude explains Muslim holidays) – it symbolizes the end of Puasa (the month of fasting) and generally includes a week of holiday. Luckily I work for an organization that embraces many different religions. What does this equate to? Tons of official holiday breaks and three (yes 3) months of vacation time a year!
The good news is that I've secured tickets to Yogyakarta (spelling varies) – near Borobudor – one of the Seven Wonders of the World. I can't believe that I have yet to see it. From what I hear it's absolutely phenomenal. You can bet I'll have my camera with me. Does anyone have any experience with either places?
The shots that I've been putting up lately are from last Sunday. I took the most random and odd day trip to some river dam about an hour east of Jakarta. I'm sure some of you will recognize it, but I have no idea what the name would be. Supposedly it was built by the Dutch before they pulled out of Java.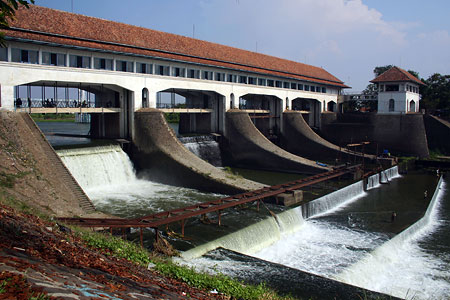 As we got out of the car, I noticed that it wasn't exactly a hot tourist destination – I'm sure I was the first foreigner to visit in quite a while. For the most part, it was pretty much a shithole (pardon me) – filthy, trash littered, industrial, and the road we took getting there gave new meaning to the word "potholes".
A group of steel workers were soldering a beam without eye protection, calling out the national slogan of, "Hello mister!". Instead of ignoring them, I sauntered on over to strike up a conversation.

"Where you from Mister?"
"Jakarta"
"No, where you from?"
"North Jakarta"
"Oh, you Australian yah!"
"Not even close man."
"America?"
"How'd you guess?"
"George Bush shit, but America ok."
"I guess that means you support Kerry?"
"Kenapa?"
"Nothin dude."
"Why you take photo here? It's not pretty!" (waving to the urban expanse in front of me)
"Would you rather I take your photo?"
"Take photo? Yeah Mister photography me!"
"So why you take photo here?" (do I hear an echo?)
"Cause I just drove an hour for this."
"But over there is pretty!" (pointing to the OTHER side of the damn.)
"Shit, don't I feel retarded."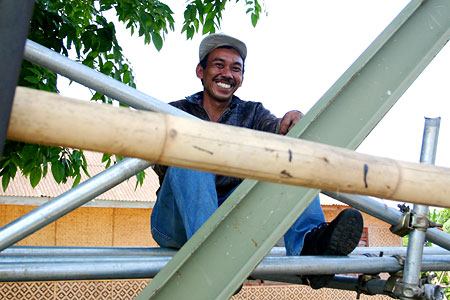 So basically here I was pissed off that I'd driven so far for nothing, only to have a steel worker tell me I was taking pictures of the wrong spot. You know what? He was right. When I ventured over to the other side, it was quite a view. People were all over the place fishing, hanging out, and taking in the view.
There were men in the river balanced precariously on these small planks, fishing with the grace of a swan. In some ways it truly was artistic to see the way they moved and floated so gently down the river. I have yet to see this technique any other place.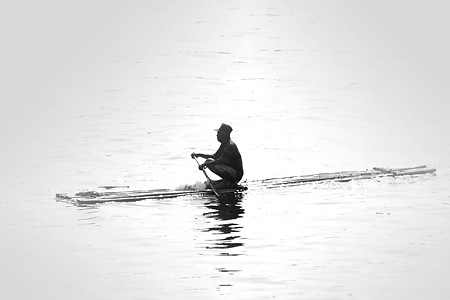 Other people were fishing off of the wall of the dam, as the woman in my photo entitled "Alone". The roar of the dam was not bothering them in the least. I wish that for just a moment I could have taken it all in without the rushing water creating a deafening crash. Often I find scenes in my ordinary day that would be more appreciated without sound distracting from its serenity. Do you remember the "plasic bag" scene in American Beauty, swirling around, and being teased by the wind as if somehow it was given life for just a moment? This was one of those times.
The longer I stay in Indonesia, the more I begin to see past the grime, the choking pollution, and the heartbreaking poverty so rampantly visible in Jakarta. Whenever I view this country through a camera lens, the negativity begins melting away like frost on a rose.