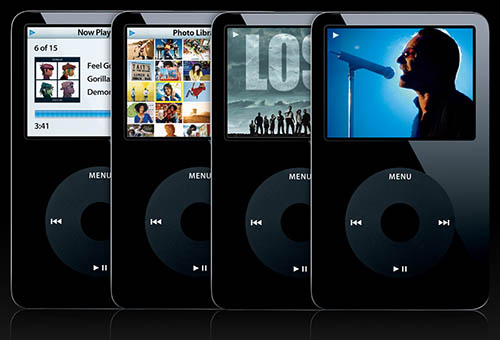 Just as I was thinking of getting a 4GB black iPod Nano – they release this – an iPod that plays video! It's been rumored for so long, that it's not nearly the surprise that it should be, but all in all, Apple is on quite a roll lately. They've also announced a number of other upgrades for the iMac (which I just bought in July – grrrr), as well as iTunes 6.
I'm a bit of a gadget geek, so this stuff gets me going. There are a number of video players on the market already – and I've always held out on buying one. I've never felt a burning desire to watch movies or shows on a tiny display. I had a dvd player in my laptop for years, but have probably watched movies less than a dozen times. Most expats here have a driver, so while stuck in traffic, they can relax with a book or something of this nature. I choose to drive myself, and therefore don't have that luxury. The time when I most would find this a benefit would be at the gym – however I'm pretty sure watching a movie on a 2.5″ screen while running would be a pretty bad idea. That's where music comes into play and video doesn't. Personally, I love having music to help distract me from the monotony of working out – and video wouldn't be a usable feature.
For many people, this will be the player to have – especially here in Asia. Many people here covet their devices in the way that American's covet their cars. The latest handphone, PDA, media player is almost a status symbol for the younger generation. I regularly see 8 year olds with the latest $600 Sony Ericsson handphones that their father gave them as he upgraded to the sleek, latest model.
Now, as much as I've argued for reasons not to get something like this, I'm sure every time I pass one in the store it will be quietly whispering my name, "Come hither Hoover." There are many positive aspects about a player like this – and foremost may be Apple's proven record for distribution. iTunes is a wonderful way to get a hold of new media. They're number one for music and podcasts, and have now integrated video into iTunes 6. If any one company can pull this off – I believe Apple can.
Also, many media players (including my beloved 40GB iRiver) are horrible to navigate, create playlists, and maintain simplicity. The iPod has already created the most intuitive navigation system around – I'm sure that it will be a seamless transition for the user interface.
The fact that theyÂ've held the price steady while adding so many features is another big plus for Apple. I wish more companies would follow suit.
A few questions I have: if media is downloaded from iTunes – is it fixed at only one resolution? If so, 320 x 240 wonÂ't be nearly enough to look decent on my iMac, (I notice it has a TV out – it would look a bit better on a TVÂ's lower resolution). Can the files be burned to CD/DVD (highly unlikely). Will they offer deals with other networks than ABC? HBO would be a good one to snag. How will this cross over with PSP? (most likely the mall rats will buy both). Do I have to buy Quicktime Pro 7 to convert DVDs to the proper format? Only 2-3 hours of video playback?
Then again, the internet is so slow in Indonesia that I really don't have much hope/use for downloading any type of video at any time in the near future.
How does this affect my Nano decision (I still love its size)? IÂ'm still unsure. ItÂ's pretty difficult to rationalize paying $250 for a 4GB music player when for $50 more you can have a 30GB video player with a much better screen. Or better yet, $150 more for 60GB with better battery life. Or better yetÂ… See thatÂ's how they get ya!
The iPod. We announced yesterday that we had shipped almost 30 million iPods. Our market share, 75% of all MP3 players shipping. Five weeks ago we introduced the iPod Nano. And you know what? We shipped over a million iPod Nanos in the first 17 days, and we could not meet demand. But what about the white iPod? ItÂ's been a huge success for us. And therefore, weÂ're going to replace it. The new white iPod. And yes, it does video.

Specs: Same width and height as current model, but thinner. QVGA (324 x 240) pixel 260,000 color 2.5-inch display. h.264 and MPEG-4 at 30 fps. TV out. 30GB and 60GB models. Same width and height. 30GB is 31% thinner than the current 20GB model [Making it 0.44-inches thick]. 60G is 12% thinner than 20GB. 30G up to 75 hours of video, $299. 60G up to 150 hours video, $399. Shipping in one week.

And, by popular demand, we make it in black. They also come with a nice carrying case, to keep 'em all perfect. [Thin plastic sleeve]

The new iPod will be 30% thinner than the current 20GB iPod (making it 0.44-inches thick), and will feature a 60GB version (which should be thinner than the current 0.63-inch thick 20GB iPod), and editions of both in black.

WhatÂ's the device named, you ask? The iPod. ThatÂ's it, just The iPod. Well spare you the Prince jokes. The iPod will have TV out.