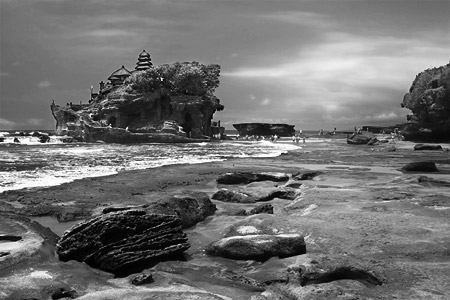 Tanah Lot – a Hindu temple well known around the world. It's difficult to photograph something like this without leaving a feeling of "seen that before". I would have enjoyed seeing it during sunset, but unfortunately was on a time constraint. I'm fairly happy with the results in black and white, but wish now that I would have captured it from more varied angles.
In my opinion, some of the world's best temples, buildings, and structures are taken from nature – this clearly accomplishes the lofty goal of integration with its environment.
I've been striving this past few months to capture more of the people of a place, rather than a place of the people. I found myself all too often seeking out landscapes and leaving the people out of my shots.
I'm now trying to find a balance among the lessons learned.
Full size (better if I may say) versions available here and here.