Well, we've decided to use our 3 weeks of vacation in Bali – yet again. We'll leave this Saturday, the 17th. After much thought and discussion, I think it makes the most sense this time. As I mentioned last month, we were thinking of trying to get to Cambodia, Vietnam, and/or Thailand, but I just feel that three weeks isn't quite long enough for such an undertaking – plus, it makes more sense to wait until I'm ready to leave Indonesia (enjoying a period of unemployment and freedom to travel a bit) – when I'll also have plenty of $$ to make it happen the right way.
Why Bali? As you may have noticed, I've been posting images lately from our trip in July to Bali – (yeah, the time when I crashed my motorcycle head-on with another guy). Unfortunately, I focused so much on seeing some of the less-discovered parts of Bali (while watching the road) – I didn't take nearly as many pics as I'd hoped. Therefore, I'm making a pact with myself to really put forth the effort to make use of my new equipment. Since the trip in July, I upgraded my camera from the Canon 300D (digital rebel) to the Canon 350D (digital rebel xt) and added the amazing 10-22mm ultra-wide angle beauty to my arsenal. This lens should provide for some sweeping landscapes of the volcanoes and rice fields so notorious to Bali. I also have a much better idea of where to go, what to see, and how to get around.
It also appears that half of our staff will be in Bali over the break – it's always fun to meet up on non-work terms. One of my previous co-workers who now lives in Pakistan will be making it down as well.
Instead of devoting three solid weeks to staying in Ubud, I think we'll break up the trip into a few sections:
Kuta/Legian/Uluwatu
Ubud
East Bali – Candidasa, etc
If anyone has any recommended stops, hotels, homestays, etc – I'm all ears!
I'll do my best to post some writing from a 'net cafe while in Bali, but the images won't likely be uploaded till my return in January (sold my laptop and my 20″ iMac just won't travel well).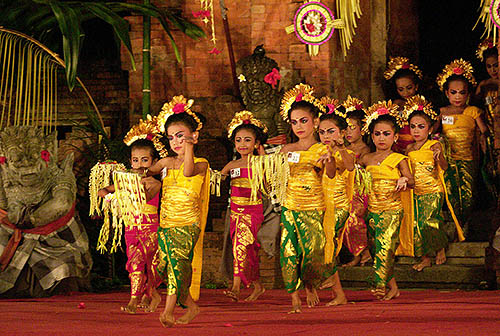 Dance competition, Ubud, Bali