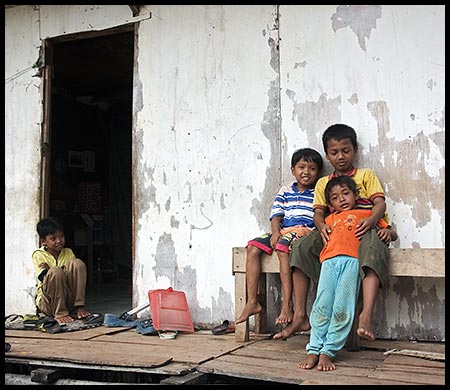 When I wander the streets of Jakarta with only a camera – these are the images I see.
————–
Another question from the forum – I'll address it here as well.
Hello from abroad. I got a job offer to come teach in Jakarta. I was wondering how do you find life there in the norther neighbourhood of Pluit. Would you say smog is unbearable? Are beautiful beaches accessible from there? Should i be scared of anything there?
(I tampered with the English slightly)
To answer your questions:
"Would you say smog is unbearable?"
Well – I would definitely say it's one of the negative aspects of living here. Pollution is a fact you'll have to deal with in Jakarta. At times the sky is as blue as anywhere – other times it looks as if the canals have evaporated. It may be worse than you thought or not as bad as you may be imagining. I'm a big fan of fresh air, so it does put a damper on my spirits at times, but if it were unbearable, I wouldn't be on my 3rd year here. 😉
"Are beautiful beaches accessible from there?"
There are indeed, beautiful beaches. If you've gone through my site, you'll see that I tend to favor those along the south coast of Java – about a 4 hour hellish drive, but well worth it if you've been stuck in the city for long. I'd say it's one of the primary reasons I've bought a car. Bali is a one hour flight and is obviously a great option for those without a car. The "Thousand Islands" can be found just north of Jakarta – a three hour boat ride and you'll welcome the amnesia that sets in.
"should i be scared of anything there?"
It's the same as any other metropolis – if you go lookin for trouble, you'll find it. We have prostitutes, murderers, corruption, demonstrations, and all other kinds of grime – but then again, it may feel like home. Detroit is much more dangerous in my opinion. However, considering the number of headlines Jakarta makes annually, you'll be pleasantly surprised at just how calm this place can be. Most Indonesians can be extremely warm and welcoming and will most likely soothe your worry in no time. Then again, I've been here awhile and am definitely calloused to any of the attractions mentioned above – now it's just 'home' for me.
You should be more afraid of getting horrendous food poisoning, stared at like a zoo animal, pestered by security guards, and riding on ojek or bajaj – they're the real killers. 😉