Tag Archives: South Africa
Posted on 05. Oct, 2005 by Brandon.
From my brother's gallery:
What does a Corvette have anything to do with cameras? Absolutely nothing, but that's a privilege of writing your own blog.
I just heard that my brother crashed my dad's Corvette last week. Apparently he hit a deer (or rather, the deer hit him) and caused him to do a 180 spinning into a ditch. Both are bruised and battered I'm sure, but fine otherwise.
He's currently hosting a photographic exhibit at the University of Michigan. If you have yet to see his work, please do. He has some amazing work from Japan, China, South Africa, Indonesia, and Namibia. Not bad for a 23 year old.
On another subject, I've decided to upgrade my camera from a Canon 300D, otherwise known as the Canon Digital Rebel – to a Canon 350D (or Rebel XT). It's been a wonderful tool in my thirst for photographic knowledge, but I do feel that it's time to move up a bit. I considered the Canon 20D, but simply cannot rationalize the additional $500 for a camera with virtually the same image quality. I've been scouring the web in my usual way – bordering on obsessive. From what I've seen / heard / and read, I believe the 350D will be a good stepping stone. Stepping to what? The 5D of course!
Too bad it's coming in at around $3300.
I've also considered the following lenses -
Canon 10-22
Canon 17-40 L
Canon 17-85 IS
If anyone has any experience with them, I'd love to hear your opinion.
Posted on 08. Nov, 2004 by Brandon.
Any guesses?
I have started taking more interest in abstract photography. Although I have actually taken many; I've displayed very few. That was more of my focus while in university and recently I've lost touch with it. I'm bored with my own work and am seeking more experimental perspectives. Here's my first example of what I'd like to continue to create (attempt at least).
I've also come across many prints from Cape Town that have never seen the 'net. I think I'll scan and share a few of the better ones. And while I'm at it, perhaps I'll scan in some of my black and white prints from university – to be continued.
The frigid Atlantic warmed by the welcoming earth forms a blanket of clouds from which the land will sleep. Cape Town, South Africa.
I hope everyone remembers that there are much larger and better quality versions of all of these images in my gallery.
Posted on 29. Sep, 2004 by Brandon.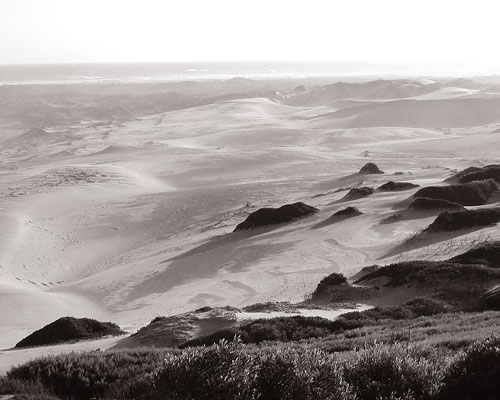 The west coast of South Africa yet again. I have so many photos that I've never shared, begging to be brought to life.
Posted on 01. Mar, 2004 by Brandon.
This is near the Cape of Good Hope, in South Africa.
It was as though the light couldn't decide between dawn and dusk.
Posted on 08. Dec, 2003 by Brandon.
I have started the process of embedding some photos within my posts. As of now, every photo you see was taken by me. I have a strong love of photography and hope to share some of my experiences with more than words. All of the photos were taken in either Cape Town, South Africa or from the islands of Java, Bali, or surrounding islands in Indonesia.
I still wish to maintain simplicity.
Posted on 04. Dec, 2003 by Brandon.
Apparently that's what I'll have this year.
Believe it or not, it's a bit tough finding natural 8 foot pine trees in Jakarta. Well, and the fact that the country is 90% Muslim.
This will be the first time in my life when I'll have to relinquish the smell of pine needles, the impossible task of balancing the tree, and the never-ending fight to give more water to the tree than blood from my arm getting scratched on branches.
Somehow, I will make the best of it, realizing that the Christmas tree is not what the holiday is about. I had planned on going back to South Africa or America, but that's just not going to happen yet. I suppose I'll venture around the island of Java, maybe hitting Bali, Bandung, or Yogyakarta (I still can't spell that word right).
Actually for being such a Muslim country, Indonesia sure puts effort into decking out their malls. Maybe it's cause the mall is such a vital part of their social existence. Of course this only applies in the large cities – but it's true!
This will be the first year that I can't spend Christmas with my family. It's a bummer.
. . . . . .
We're heading into the rainy season here. Pretty much it's sunny for most of the day with a slight chance of torrential rains in the afternoon. It kinda sucks that my windshield wipers just won't turn on – it makes driving home a bit like playing "Frogger".
I don't mind the rain. Actually it's much better than the monotony of perpetual sunshine. Things cool off, breaths are easier to take, and the flowers seem to take off as if on steroids. It can only hope that the roads don't flood like two years ago!
. . . . . .
If anyone reading this is interested in visiting Bali, Java, or Indonesia, let me know and I'll hook you up with some good deals and some great places to stay. I've found some amazing things to do and some "exotic" places to see. Send me an email! I love hearing from anyone.
Posted on 27. Jul, 2003 by Brandon.
I am still in Cape Town, South Africa – and will be for another two weeks. I haven't written anything cause being in front of a computer is the LAST thing I feel like doing while I'm in such a beautiful place! I've been out hiking, getting lost, eating ostrich, adjusting to driving on the left side of the road, waking up without an alarm, reading, taking photos, and enjoying life away from Indonesia. Unlike December, there's not a whole lot that I miss of Java from being away. I suppose that's a sign that I'm not ready to go back yet… good thing I still have two weeks left!
Even though there's a chill in the air, at least we've had bright sunshine most of the days. Instead of renting a car, a friend let me use his Mercedes – a much nicer option. So, life is great – and I still am drawn to this vibrant city… I'm not sure when, but I'm sure I'll find my way here eventually as a home.
I hope to have some great photos to share upon my return.