Archive for 'Canon S95'
Posted on 05. Feb, 2011 by Brandon.
Bicycle in Kyoto, Japan
Canon S95
Posted on 21. Nov, 2010 by Brandon.
The Canon S95 can produce a miniature effect mode for both photos and videos. In my experience it's generally more useful when shooting a scene from a raised vantage point, preferably at an angle. It may be more successful with subjects such as people, vehicles, and buildings. The following photos were taken in Nikko, Japan and Yokohama, Japan.
If you click through the photos, they'll give you a slightly larger image to view. I'll post video soon from the Canon S95 miniature mode with video.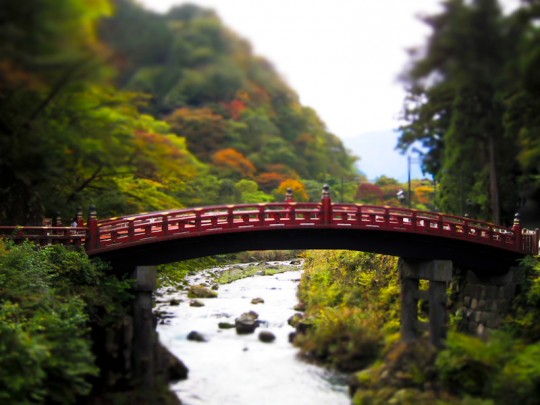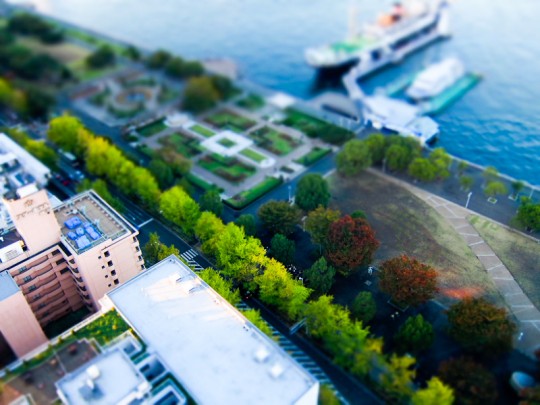 Posted on 10. Oct, 2010 by Brandon.
The following images display the Canon PowerShot S95 low light capabilities at ISO 80, 200, 400, 800, 1600, and just for kicks, 3200. This is a follow-up to my initial review of the camera. In my opinion, ISO 400 is just fine, 800 usable, and 1600 moderately usable if need be. ISO 3200 is pretty much a mess, but would be better than nothing if the situation calls for it. For a compact camera it definitely impresses.
These images link directly to full size, unmodified samples. Feel free to download and inspect them as you wish (click the image, then click again to get to the full size version).
To make things easier, I've also posted 100% crops from the samples. Again, these are straight from the camera. However, take note that these were all shot as jpeg, not RAW with +1 on sharpening, +1 contrast, and +1 saturation I believe, using the "Custom" setting.
100% Crops from the above images:
Posted on 05. Oct, 2010 by Brandon.
I just bought the 

Canon PowerShot S95

as an always-with-me backup to my huge DSLRs.
It's the best compact camera I've ever used or owned. Period.
I've been out of the market for a pocket sized camera for years – the last compact I bought was a Canon G7, before that a Canon S2 IS in 2005, and my first digital camera – a Canon PowerShot S40, purchased in 2002 before I moved to Indonesia.
I still have the S40!? from 2002, and the G7. However, the G7 is Novita's compact backup to her Canon 40D, and I rarely use it. I've basically been an all or nothing kind of guy for years. Either I drag around my Canon 5D Mark II
and a bag of L lenses, or it's my iPhone for crappy 2mp photos. There's been no middle ground.
The Canon S95
fixes all of that.
As I've mentioned before, I'm a complete freak about researching things – borderline obsessive. I spend far too many hours reading reviews and comparing cameras online, in shops, and in conversation. On that note, I highly recommend using Dpreview's camera comparison tool.
At one point, I was considering the Panasonic Lumix DMC-GF1 with the 20mm f/1.7 Lens
(has received rave reviews), but realized once again that it's simply not something I can always have with me, and the lens isn't stabilized. Nor does it have the flexibility of a zoom.
Next up was the Panasonic Lumix DMC-LX5
. This was the newly announced follow up to the LX3; a camera with a cult-like following. The LX5 has some features that beat the S95 – 24mm vs 28mm and a faster lens at the long end. It also records video in 30fps vs S95′s 24fps. That's a preference only the end user can decide upon. However, after a long, exhaustive comparison and seeing them both in person, I decided yet again that I wouldn't be able to pocket the LX5 with ease (or without my "murse"). I am also turned off by the LX5′s lens cap. I just KNOW that thing would get lost at some point, and living overseas, it's not always easy to find spare parts without paying far too much. If I had not been so concerned about size, the LX5 would have been VERY tempting.
BUT, the Canon S95 won me over.
It's the newly announced successor to the very popular Canon S90
.
Some of the main features include:
HS System & f/2 lens
High-sensitivity 10 MP CCD
28mm wide, 3.8x zoom lens, Hybrid IS (equal to 28-105mm)
Lens Control Ring, Full Manual & RAW (lens ring is awesome!)
7.5 cm (3.0″) PureColor II G LCD
HD movies (720p 24fps), HDMI
High Dynamic Range mode
Multi-Aspect Shooting
What did it for me?
The size – only 193 grams and 30mm thin
Low light capability – f/2.0 and IS – decent ISO 800
HD video
Lens control ring – very useful for getting back a bit of the SLR feeling
Why the sudden need for a compact camera? Well, in a week and a half, I'll be flying to Bacolod for the Masskara Festival, and a week after that I'll be flying to Japan for 12 days to travel around Tokyo, Kyoto, and Nara with my brother.
I'll be bringing all of my gear of course, but I really don't want to miss those moments when a huge DSLR is too obvious, intrusive, or unwelcome. The S95 is as inconspicuous as they get. I've started doing a fair bit of video, and the 720p from the S95 is quite decent, but nothing like my 5D2′s 1080p. The vast majority of my photos will still be taken with my SLR, but expect to see some more casual photos posted from the S95.
I'll be posting unedited and edited sample shots soon, including many low-light photos and even a comparison to the SLR and G7 in regards to low light ability.
I apologize if this sounds like a promotional piece for Canon. It's certainly not meant to be. I simply believe in sharing my experiences when I finally find equipment that suits my needs. Having said that, don't let anyone fool you that these compact cameras can stand up fully to modern DSLRs. They can't. As far as low light is concerned, they can do quite well up to around ISO 800 and 1600 is still usable, but they don't hold a candle to a full frame sensor. The speed is still nothing compared to an SLR, and the pixel-peepers will never be as satisfied. BUT try bringing your 70-200 2.8 IS in your jeans without some odd glances. (Is that an L or are you just happy to see me?…..)
All in all, I'm thoroughly pleased with the S95. It's opening up new avenues for fun and creativity that I've missed. Keep checking in for more examples and opinions.