Archive for 'iPhone'
Posted on 20. May, 2012 by Brandon.
If you happen to lose your beloved iPad or iPhone, wouldn't it be nice to rely upon the chance that the goodness of people will prevail in returning it to your hands?
Naive? Perhaps. Nonetheless, it's worth a shot. Pondering this today, I decided to create my own custom lock screen with my basic contact info overlaid on top of the image.
Here's how:
Using an image editor (I used Photoshop), create a new file at a resolution of 2048 x 1536px for the iPad 3 (new iPad). iPhone 4 / 4S would be 960 x 640px. iPad 1 / 2 would be 1024 x 768px.
Plan to design your contact info to fit with the consideration of the top menu and lock area. (roughly 230px from the top and 192px from the bottom)
Add new layers with your contact info (link them so you can move them around together)
Save as a layered file (PSD or TIFF in Photoshop) so you can repeat the process with other backgrounds.
Save as a jpg or PNG
A couple of issues with this method – obviously you'll have to consider that the contact info will be oriented to either landscape or portrait. There are apps out there that overlay the text from an app but I found them to be less than ideal and unsupportive of retina displays at this point. So if your info is oriented to the side on an image such as below, it'll get cut off when you turn it to portrait. However, you can also simply put your info more centered as in the second example.
Here's mine: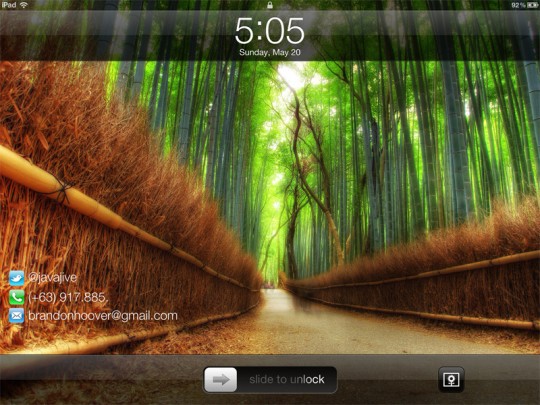 This method isn't perfect, but it really only takes a few minutes once you get a template set up. For now I feel slightly more at ease knowing that there's a better chance my iPad will get returned to me should I misplace it. If you have other ideas or another method please do share!
Posted on 24. Nov, 2009 by Brandon.
A funny yet predictable observation: I've been too busy these past few months to utilize Twitter in the same way as I did last year, and noticed a few things:
90% of the people I used to converse with on a daily basis 12 months ago no longer communicate with me, nor I with them (nothing negative, just factual).
I spend perhaps 70% less time on Twitter currently than I did last year – hmm, correlation perhaps?
The statement "You get out what you put in" holds very true for Twitter it seems. I've been too busy to do much replying, RT, DM, and making new contacts since my move to Manila, and subsequently my number of followers has significantly leveled off (and is stuck right below 1000 whereas many people who had less followers than myself a year ago have blossomed into 4 digit stars)
Most of the Indonesian contacts I have no longer chat with me since my move to Manila – BUT this ties in with the top two points – it's no one's fault (well, ok, it's more mine), it's just the nature of Twitter and human contact. It's quite similar to The Sims when you think about it. A few weeks go by without any conversation and the heart above my head drops a point.
Even my close friends and ex-coworkers who use Twitter no longer chat nearly as much – if your friendship began offline, and physical proximity changes, is online communication with them more likely to diminish than those friendships which began online?
So am I 'over' Twitter as media sources are beginning to state, "Has Twitter Peaked?" ? No! I still enjoy using Twitter and seeking out great contacts and valuable information. But my own use for it has evolved over time. Whereas it started as a one way communication tool for me in 2007, 2008 and the first half of 2009 was more about socializing and meeting up with people offline and engaging in great conversations. It has now morphed into more of tool of observation and perhaps less interaction. This may not be a bad thing. I was getting to the point where I knew more about what my contacts were doing, going, watching, eating, enjoying, than my own family (who still all refuse to use Twitter! – as my sister said, "It's so egotistical – who cares what you had for dinner??!" – don't blame her, she's just bitter she's not eating the Italian we had last night)
I still use Twitter nearly every day, and usually many times per day. But I've become more of a voyeur with my contacts – I've made lists in TweetDeck of my favorite people (which I've called, "Interestingness" ala Flickr), photography news, Manila, Jakarta, etc. I even have an "Indonesian" column to keep up with the awesome group of people that helped spur my interest in Twitter in the first place. After email, Tweetie on my iPhone is my 2nd most often used app (Facebook is the 3rd, Manifesto the 4th).
My new career, new country, and abundant travel time in 2009 (Bali twice, the move to Philippines, Boracay, Hong Kong, Banaue, and soon Singapore) has prompted this change (and a definite factor is the more expensive and spotty mobile internet in Manila compared to Jakarta).
Perhaps this is a time of change for Twitter as well. I wonder what 2010 will bring for me and my "tweeps"?
Some related posts:
My first experience with Twitter – 2007
The peak of my own Twitter experience – 2008
Observations and questions about microblogging from 2009
Want more? Here's the archive of all my Twitter related posts. Or of course, you can add me if you wish.
Posted on 13. Nov, 2008 by Brandon.
A phenomenon has swept across the internet. Twitter.
No, it's not new, in fact it was developed in March 2006 according to Wikipedia. I personally started using it in March of 2007, after reading Kottke proclaim:
"Twitter is the first thing on the web that I've been excited about in ages. Like years. The last thing was probably Flickr."
I used it consistently since first joining, updating at a steady rate of about 1 'tweet' per day. I approached it with the parallel mindset of posting a blog entry or a photo to Flickr. All was well in my slow and steady Twitter world, until the end of September 2008. My Twitter updates skyrocketed, and my network expanded. View the graph below. (only goes back one year)
Twitter posts by month: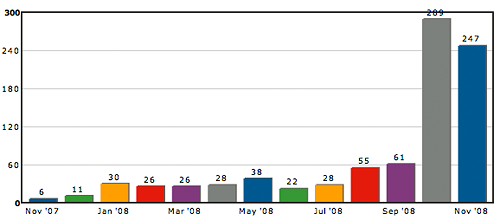 This is due to two primary factors: my iPhone 3G and the discovery of 'jtug' – Jakarta Twitter Users Group. This has radically changed my Twitter experience, and completely enhanced the usage of Twitter for me. The iPhone enables me to use Twitter anywhere, and the Twitterific application is generally a pleasure to use, both on the iPhone and the desktop based version.
The Jakarta Twitter Users Group is a congregation of primarily Indonesian users based mostly in Jakarta. They're a wonderful, vibrant, and positive conglomeration of Twitter users from diverse backgrounds, who often post in English (but the Bahasa Indonesia usage is helping me to learn more!). As an expat living in Jakarta, I find it refreshing to meet many new Indonesians that I most likely would not have had the chance to get to know. I've been fortunate enough to meet up with many of them in 'real life' offline as well, opening up a new world of friendships that otherwise would never have sprouted.
I pulled some data from TweetStats to view a breakdown of my own Twitter usage.
Here are the visual results.
By hour of the day:
As you can see, generally I peak first thing in the morning, usually in reply to the messages sent overnight, or to those people I follow in the States, Europe, etc.
Around 3-4pm it picks up again, as I'm leaving work or arriving at home.
And finally around 9pm is the third peak of the day, generally after the gym and dinner in the couple of hours before I sleep.
Conversations trends:
The first conversations of the day tend to be more tech based, news related, tips for working, and replies to overnight tweets.
The afternoon conversations are often more casual, unwinding, reflections on the day, social tweets.
The evening conversations seem to snowball; sometimes totally quiet, but other times, this is when some of the Jakarta users go crazy and begin Twittering like crazy. Some of the oddest and most entertaining chats happen in the evening.
By day of the week: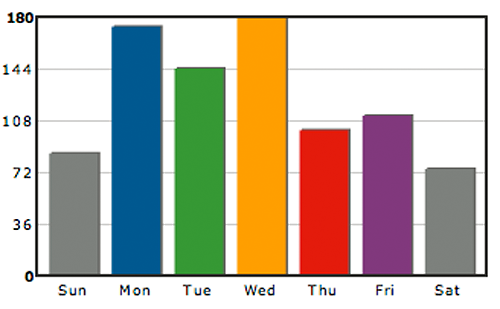 Having spent so much time online during the week, I tend to break away from the internet on weekends. Monday through Wednesday, as with many online services (and hits to my blog), tend to be higher on these days than later in the week.
And finally, what Twitter client I prefer to use: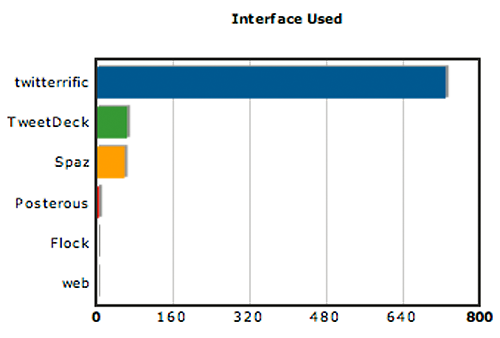 The client I've traditionally used is Twitterific, on both the Mac as well as the iPhone. Twitterific remains one of my favorite clients for its simplicity and small size. However, I've dabbled with a few others, and most recently found TweetDeck to be a nice option if you're using a second monitor, or have a large screen. On a laptop I think it requires too much screen space. However, when using a second monitor, it's great for organizing contacts by group, replies, and direct messages.
Some of you are thinking, "How do you find the time?". Well, first off, I work in front of a computer most of the day. Secondly, I actually have quite a few professional contacts and coworkers that use Twitter to bounce ideas, share links, and communicate quickly with. I often work with many applications open at once, and can quickly glance over at Twitter without losing focus on my current task.
Ironically, very few of my family members are on Twitter (but Novita is!), and somehow it seems odd to know what my contacts are eating, reading, watching but yet, have no idea what my own family is ___, ___, ___,. Is this wrong? Well, perhaps not, as email is still my preferred way to keep in touch with them as it allows for more introspection than 140 characters provides (Twitter's maximum message length). But it would be great to see more of my friends/family/Flickr/Facebook contacts join Twitter. If you wish to follow me, my username is (surprisingly) 'javajive'.
Many people recommend following each and every person that follows you. I do not share this opinion. I'd much rather follow 100 witty, intellectual, interesting people that I can keep track of, than hundreds of people that simply fill my account with static.
If you're just getting started, it may help to have a purpose, to have an idea of why you're going to create this network, and what kind of contacts you'd like to follow. A great site that offers many interesting articles, tips, and resources regarding Twitter is TwiTip. Here's an article in Wired about its exploding popularity. Monitter is an awesome site for real-time keyword searches (just try it!) and gives an example of the potential for future news and information in streaming real-time.
What does the future hold for Twitter? Is this a fad that will die out? Will it morph over time? Will it become a Friendster-ish decay?
Surely Twitter will change dramatically for better or worse. But more importantly it represents the power of simplicity. People have video chat, podcasts, instant messengers, tumblr, blogs, facebook, myspace, flickr, etc, etc, etc. And yet, with the advent of services like Twitter, or another example, the mini-games that you can pick up and play on the iPhone/Touch, or the approach to blogging as Posterous presents (just need to know how to use email), the people have spoken. They appreciate quick, direct, and simple tools in this perpetually advancing landscape of technology and complexity.
Posted on 09. Oct, 2008 by Brandon.
From 'Daring Fireball':
Let's just say it up front: the iPhone is the greatest piece of consumer electronics that has ever been made.

If I could travel back 20 years and show my then 15-year-old self just one thing from the future of today, it would be the iPhone. It is our flying cars. Star Trek-style wireless long-distance voice communicator. The content of every major newspaper and magazine in the world. An encyclopedia. Video games. TV. Etc.