Archive for 'iPad'
Posted on 20. May, 2012 by Brandon.
If you happen to lose your beloved iPad or iPhone, wouldn't it be nice to rely upon the chance that the goodness of people will prevail in returning it to your hands?
Naive? Perhaps. Nonetheless, it's worth a shot. Pondering this today, I decided to create my own custom lock screen with my basic contact info overlaid on top of the image.
Here's how:
Using an image editor (I used Photoshop), create a new file at a resolution of 2048 x 1536px for the iPad 3 (new iPad). iPhone 4 / 4S would be 960 x 640px. iPad 1 / 2 would be 1024 x 768px.
Plan to design your contact info to fit with the consideration of the top menu and lock area. (roughly 230px from the top and 192px from the bottom)
Add new layers with your contact info (link them so you can move them around together)
Save as a layered file (PSD or TIFF in Photoshop) so you can repeat the process with other backgrounds.
Save as a jpg or PNG
A couple of issues with this method – obviously you'll have to consider that the contact info will be oriented to either landscape or portrait. There are apps out there that overlay the text from an app but I found them to be less than ideal and unsupportive of retina displays at this point. So if your info is oriented to the side on an image such as below, it'll get cut off when you turn it to portrait. However, you can also simply put your info more centered as in the second example.
Here's mine: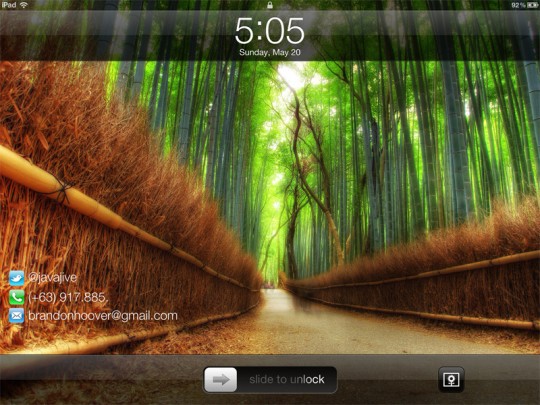 This method isn't perfect, but it really only takes a few minutes once you get a template set up. For now I feel slightly more at ease knowing that there's a better chance my iPad will get returned to me should I misplace it. If you have other ideas or another method please do share!
Posted on 29. Feb, 2012 by Brandon.
Forget the iPad 3, check out these tablets [awesome video]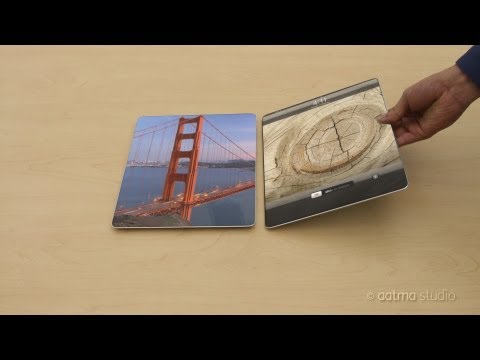 "Edge-to-edge screen, magnetic iPads with near field communications (NFC) and 3d holographic display for multiplayer games"
iWant!
Posted on 24. Apr, 2011 by Brandon.
These photos clearly demonstrate why an iPad
(or iPhone or any glossy screen device) is less ideal for reading outdoors than a Kindle
(or other similar device). I don't yet have a Kindle – this was borrowed from a friend. But as my e-book collection grows, I find myself really wishing for the Kindle under these circumstances. Much of my reading for pleasure is done after work, near the pool and I simply can't get by with the iPad's reflections. I also found the light weight of the Kindle to be far superior for single hand-holding similar to a paperback book.
The images below were taken with the iPad's brightness turned all the way to maximum.
This isn't meant as an iPad
vs Kindle in terms of which to choose – I choose both. But for reading outdoors, there's simply no doubt that the Kindle
is more ideal. I think I'll pick one up this summer.
Posted on 11. Apr, 2011 by Brandon.
This is a direct comparison of the screen size and resolution of an 11″ MacBook Air to a 17″ MacBook Pro. The following images demonstrate the same webpage in Safari, the same photo and palettes in Adobe Lightroom, and the gloss and glare of the Air and Pro side by side. Don't put too much into this comparison, as it's just a quick and dirty photo shoot with poor lighting.
The resolution differences:
11″ MacBook Air: 1366 by 768
17″ MacBook Pro: 1920 by 1200
11″ MacBook Air: 135ppi
17″ MacBook Pro: 132ppi
The 11″ MacBook Air has a higher pixel density than any other MacBook, MacBook Pro, iMac or iPad. I still don't get why they need to make the bezel so large on the Air, unlike the iPad, no one's going to be holding their Air by the screen. The 17″ bezel is nearly half the size.
In terms of my very subjective, brief and unmeasured opinion, the Air was a pleasure to use. The launch times for applications such as Lightroom, Word, iMovie, and Garageband were nearly identical to my 17″. However, I have swapped my 17″ stock drive with a hybrid Seagate Momentus SSD/HDD, so it likely launches much quicker than a stock 17″ 500GB HDD. Additionally, I have installed 8GB of OWC RAM which never hurts.
I don't think the 11″ Air could be my primary computer, even when connected to an external monitor. I've become used to 8GB of RAM and am not a fan of USB 2.0. However, it would make a fantastic road warrior, and as long as you are prepared to pack an external drive (which I do anyway), I think it'd be a great supplement to something like an iMac. I personally would prefer an 11″ MacBook Air to an iPad (which we have) if I had to make a choice, as I love having a full blown computer at that level of portability. But to each their own.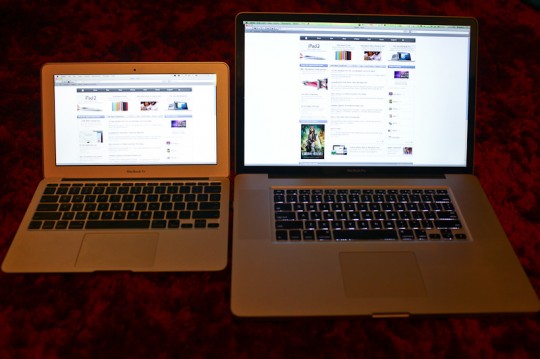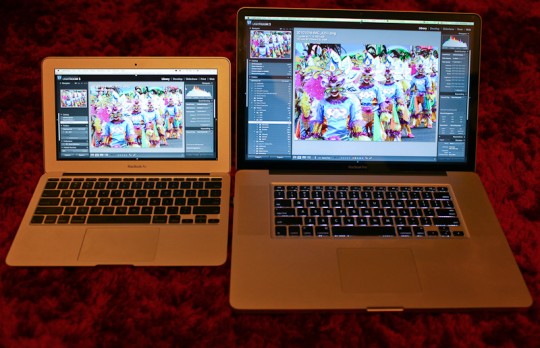 Posted on 16. Apr, 2010 by Brandon.
A cloud of ash from a volcano in Iceland swept toward mainland Europe on Thursday, forcing up to 6,000 flight cancellations across the continent, according to the intergovernmental body that manages European air travel.

Thousands of flights were affected as some of Europe's busiest airports closed, including London's Heathrow; Amsterdam, Netherlands' Schiphol; and Paris, France's Charles de Gaulle. Volcanic ash can cause jet engines to shut down. The prime minister of Norway was among those stranded by the closure of European air space.
Jens Stoltenberg, who was in the United States for President Obama's nuclear summit, is running the Norwegian government from the U.S. via his new iPad, press secretary Sindre Fossum Beyer said.
I guess the iPad isn't just for cats afterall.