Short version: I'm an American expat living in Manila, Philippines after 7 amazing years in Jakarta, Indonesia. I've been living in Asia since 2002.
I'm an IT Curriculum Director at a major international school, an  ADE, with a degree in Engineering and Industrial Design with a Fine Arts major. One of my strongest passions (as you may have guessed) is photography.
Keep up with me via:
Or simply email me at thejavajive (at) gmail (dot) com
Long version: Keep reading…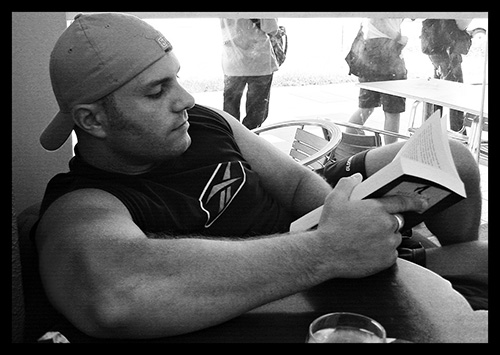 Philosophy:
Indonesia has been my home for many years. It is a land of exquisite beauty, exotic cultures, and fascinating people, all of which have been a continual source of inspiration for my photography.

During my time here, I have seen the magnificence of destruction, the hope of rebuilding, and an astounding resilience which is a testament to the Indonesian people's vitality and perseverance. My journeys often take me into areas of absolute poverty, yet smiles abound. Vibrant colors saturate the landscape, and unimaginable splendor is found in the most unexpected of places.

My photographs tend to explore the juxtaposition of the mundane and the exotic and seek the essence of what makes something beautiful. This may take the form of a graceful Balinese dancer's feet twirling around delicate flower petals, the sky blue of a slum wall behind the brilliant fuchsia of a food vendor's cart, or the rain-soaked tea plantations carpeting the side of a perilous volcano. Through this collection of photographs, I hope to share Indonesia's vitality and the simple allure of this breathtaking country.
Reality:
Seven years. Seven breathtaking, phenomenal, life-changing years.
That's how long I lived on the island of Java, Indonesia. It was quite possibly the farthest place I could have chosen from my 'home' of Michigan, in the States. What was I doing there? Perhaps we should rephrase that. What was I not doing there?
I spent seven (not that's not a typo) years achieving a degree in Engineering / Industrial Design / and Fine Arts. I 'should' be working in that field I suppose, designing cars and making loads of cash. Instead I've opted for traveling. Far. I've been in Asia ever since. I consider the time spent here my second education, and in many ways, more important than the first.
___________
Contact me:
Email: thejavajive [at] gmail [dot] com
Follow me on Twitter, 500px, Instagram, Google+, LinkedIn, Flickr, Smugmug
___________
Equipment:
I shoot digital after a brief, yet passionate affair with film, red lamps, and chemical highs.

Canon 6D
Canon 5D Mk II
Canon 40D
Canon S95
Canon 17-40mm f/4L
Canon 24-105mm f/4L IS
Canon 70-200mm f/4L
Canon 35mm f/1.4L
Canon 50mm f/1.8II
Canon 85mm f/1.8
Canon 1.4x Teleconverter
Canon 135mm f/2L

Fuji X-E1
Fujinon 18-55mm
Fujinon 23mm f/1.4 (equivalent to 35mm in FF)

Canon 580EX II Speedlight
Yongnuo 560 Flash
Canon Speedlite 420EX
Manfrotto Tripod and Ballhead
Carbon Fiber Benro Tripod
A Bunch of Crumpler Bags
*Previously used Canon 300D, 350D, 5D, 5D Mk II
___________
My Digital Darkroom consists of the following:
27″ iMac 3.4Ghz i7, 16GB RAM
15″ MacBook Pro Retina 2.3GhZ 16GB RAM, 500GB SSD
13″ MacBook Pro Retina 2.4GhZ

16+ TB of external drives
Adobe Photoshop
Adobe Lightroom
Nik
VSCO
Wacom Tablets
I sell prints on Smugmug.
Additional photos that don't make it to the blog can be seen on Flickr.
That about covers it.
Cheers from the Philippines!
Brandon