Archive for July, 2006
Posted on 23. Jul, 2006 by Brandon.
We were lucky enough to hit Ubud just as the city's annual festival broke into full swing. On the opening day, the streets were swarming with energy. Thousands of people were lining every path, every street, and every inch of sidewalk. I've never seen such crowds in Ubud. They were all in anticipation of the parading artists and dancers, each offering a different style of dance and all heading to the football fields for a final display.
We made our way to the football field in the center of the city, claiming a front row seat and eagerly awaited the arriving dancers. As thousands of others joined us, the first parade filtered onto the field. Stepping into the makeshift stage, which was no more than a section of the field designated for that purpose, the show was about to begin. The dancers began their routine facing away from us, but surely they'd turn around and show the hundreds of spectators the dance from our view as well – right? Wrong. To our disappointment, we sat in exactly the wrong spot for viewing the dances. The performers scheduled to make appearances would all be showing us their backside.
An hour or so into the performance, I finally gave up my spot in hopes of getting to higher ground so I could actually see their faces. I managed to squeeze behind some Balinese men who were fortunately a few inches shorter than me and cranked out some mediocre photos. Oh well. Surely some of the other foreigners in the crowds will have exactly the same photos as me – I'll know as soon as I put them on flickr.
We've also been down to the new Bvulgari Hotel in Nusa Dua numerous times as Nana (Novita's sister) is possibly going to accept a position there. What a gorgeous hotel! Breathtaking views of Bali's southernmost shore, an infinity pool 50 meters over the crashing waves, and a price tag of 'only' $1000 / night. Not. Just. Yet.
The job of a travel agent is to make you cheap travel deals and your miami hotel reservations. It is the task of a travel advisor, to tip you on getting reservations in a new york hotel instead on the running rates of toronto canada hotels.
Posted on 12. Jul, 2006 by Brandon.
Awake. Eat. Read. Swim. Sit in the sun. Read. Go into town. Eat. Sleep. Repeat.
Now that's more like it. This is definitely a welcomed change of pace for this Jakartan. My biggest ambition for the day has been to drive anywhere. The house we're staying in is situated right on the splendid rice fields just outside of Ubud. The only sounds at night are that of the crickets, frogs, and the occasional falling coconut that'll scare the crap outta you at 4am (which you can then crack open and sip on at breakfast).
Our travels have extended all the way to the other side of Ubud (10 minute drive), as we're not yet in the restless mood that usually drives me to explore the entire island with my shoebox-sized rental car. I'm staying off the motorcycles after my Superman impersonation last summer when I hit another bike head on.
For now, this is it. This is just what the doctor(s) ordered. More to come.
Posted on 07. Jul, 2006 by Brandon.
We're leaving for Bali in about 6 hours. We'll be gone for the next 4 weeks (nice long break huh?), but I'm pretty sure I'll be able to check in and continue to post during our travels.
I forgot to mention this before, but if those of you living in Indonesia have a chance, check out the latest issue of Kabar Magazine. The cover photo is one of mine and there's a 5 page photo essay inside that I wrote. Pretty happy with the results. It's available at all the major bookstores / airports / etc.
I'm going to spend lots of my time these next few weeks trying to get my foot in the door to some of Bali's galleries / hotels / etc for my photography. In the extreme side of things, I may even try to see what's available for rent and possibly set up a gallery in Ubud of my work. Wish me luck!
There are a few of you that I still owe an email. I'll try to get to a 'net cafe in the next few days and whip out some messages. Minta ma'af.
We'll be settling in Ubud tomorrow and probably for at least two weeks will be in Bali. We may or may not go to Lombok and the Gili Islands. My buddy and I were talking about hiking Rinjani – Indonesia's second highest volcano. Guess we'll see just how ambitious we're feeling by then.
Take care guys. See ya when I see ya.
Posted on 05. Jul, 2006 by Brandon.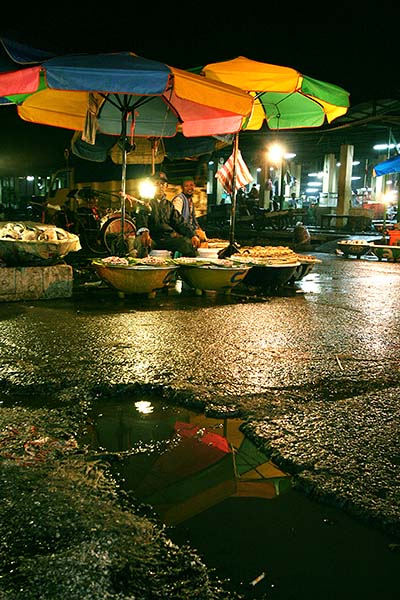 Fish market workers create their daylight from gas lamps. Their day begins at 10pm.
Sunda Kelapa, Jakarta
Posted on 04. Jul, 2006 by Brandon.
'Becak' making his rounds in the street market of Sunda Kelapa – an old Dutch port made famous during the spice trades.
Canon EOS 350D
Exposure: 0.05 sec (1/20)
Aperture: f/5
Focal Length: 10 mm
ISO Speed: 800